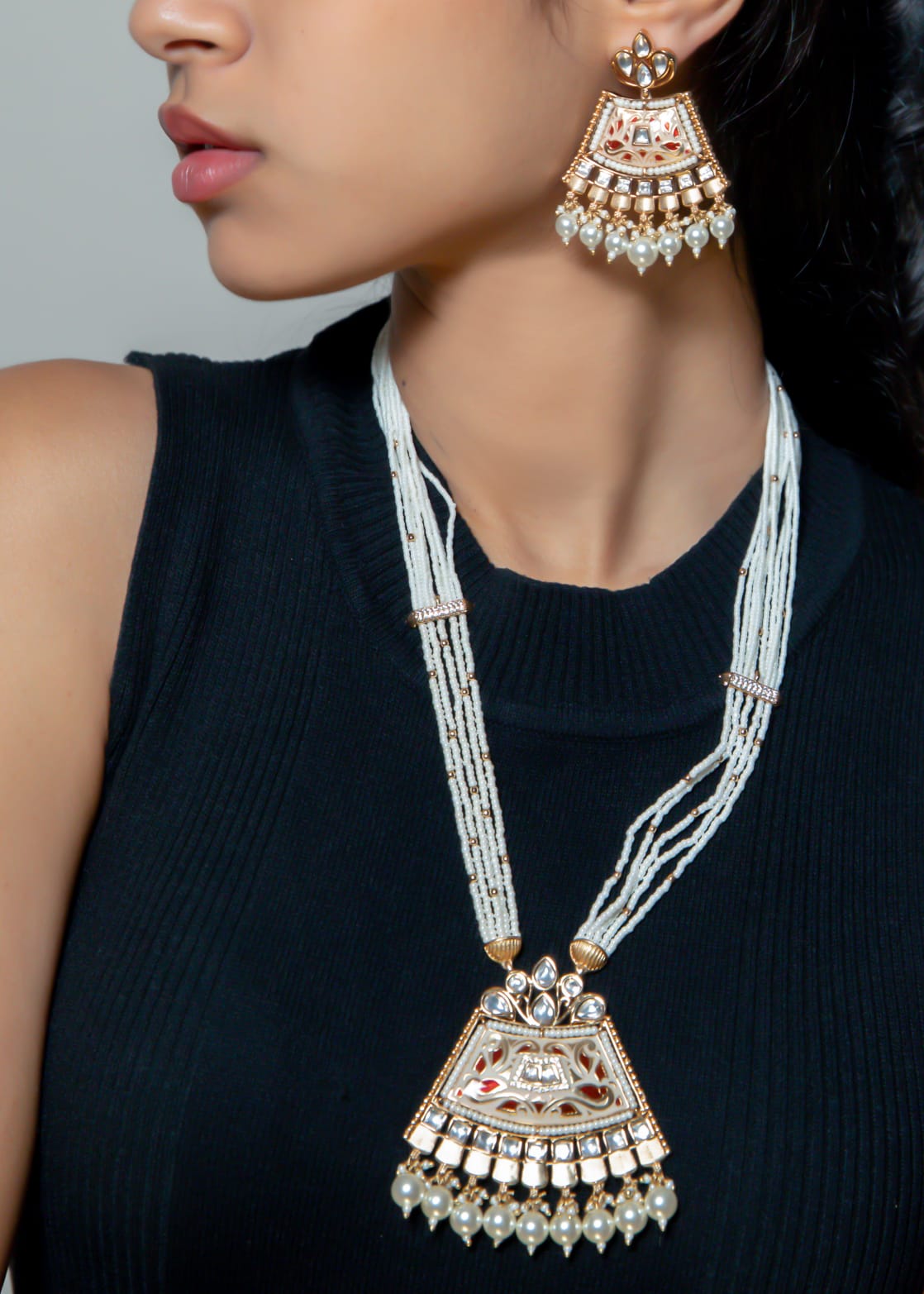 Handcrafted Meenakari Pearl Necklace
Order On
WhatsApp
The Handcrafted Meenakari Pearl Necklace is a stunning piece of jewelry that exudes elegance and sophistication. This exquisite necklace is meticulously handcrafted, showcasing the intricate art of Minakari.
The necklace features a beautiful arrangement of pearls, adding a touch of classic charm to the piece. The pearls are carefully selected for their luster and quality, ensuring a luxurious look and feel.
Completing the set are matching earrings, designed to perfectly complement the necklace. The earrings share the same Minakari and pearl design, creating a harmonious and stylish ensemble. This Handcrafted Minakari Pearl Necklace set is a testament to timeless beauty and craftsmanship.
LABEL RM places utmost attention on producing high-quality products therefore we require 2 to 3 days  for shipping.

Exclusive custom-made jewellery will take 4-8 weeks for production and delivery. We'll send you an email as soon as your order is ready to be dispatched.
LABEL RM jewelry is special and all are handcrafted in our workshop.
Jewelry should be stored in dry places away from humidity moisture and extreme temperatures.
Lotions, perfumes, soaps contains harsh chemicals, these are not 100% natural and can react unfavorably with the jewelry.
Make sure you remove the jewelry while washing up or showering as soap particles may lodged in stone settings and crevices. Soaps can also leave a film over metal and stones, creating a dull appearance.
We recommend you to wear the jewelry only after you are finished applying makeup and other beauty products.
Always store the jewelry in its own box or in a silk or velvet pouch.
Handcrafted Meenakari Pearl Necklace